I'm not going to apologize for this post, but I am going to warn you. It's not pretty, or poetic, or filled with lovely words that my brain loves to pour out. If you can't handle it, skip this one. I didn't start this blog for only the magic and the beauty - I wanted to document all parts. The lonely parts, the boring parts, the filthy disgusting horrible parts. So here it is, I welcome you to read about my lovely day here as a chicken farmer.
I could deal with the bloody eggs, the poop eggs, the hours among hours of putting eggs upon eggs in their little cute containers that we see at the markets. I could even deal with the complete boredom of being secluded in possibly one of the smallest towns I've ever been to, playing card games to pass the time. I could do it, no complaints. I thought I was superman of the egg farm and no task was too hard or gross. But today took a fun turn. Once you have to literally scrape a dead chicken carcass off of a cage, that's begun to rot with decay, so much that you have to break the poor things bones to get it off the cage, you've hit a limit. All bets are off. The glamour and fun fades fast, as I sit there gagging into a trash can that I just dumped a dead chicken into, with the holy smell of death seeping into my nostrils. Beautiful, just beautiful. All in all though, this is exactly what I signed up for. I knew this day would come, and even anticipated it with a bring it on attitude. I knew it wouldn't be fun everyday. I knew it was out of my comfort zone which is exactly why I chose to do it in the first place.
So here I am, laughing, now that it's over, as I've completed another day here at the farm, and turned over even the grossest of pages. I imagine I have a few more chicken carcasses to collect over my next two weeks at this farm. And a whole lot of boredom. But this is where the growth happens, right? This is where I magically take some sort of education from peeling chickens off cages. I sure as hell hope so. I won't give up, and I won't stop being grateful for my opportunity here. But I will, forever, have nightmares of dead chickens. I might even stop eating them.
Maybe.


Powered by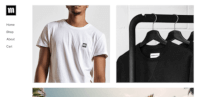 Create your own unique website with customizable templates.

all words by mia laurén hall unless stated otherwise