It's been two months today since we left. Almost 9 weeks.

I fell in love in Iceland, with Iceland. The mountain air refreshed and awakened me. I remember feeling so alive there, my heart felt so full of awe and love. That place is pure magic. You feel it, you breathe it.

We galavanted among beautiful Scotland for a week, dancing among the whimsical streets of Edinburgh, indulging in shopping and delicious food, then caught our bearings up north in Inverness.

We then spent another week in Amsterdam, quickly realizing how vastly overrated it is. The vibe is strange, different among the rest of the places I've been, feeling slightly unsafe, (I hate admitting that) the 'coffee' shops aren't exactly friendly, and the red light district is just absolutely sad. It was on my bucket list (god knows why?) but I wish I hadn't. I was almost in tears. A friend later mentioned that they're not willing prostitutes as you may think, they're sold into it. Sex slavery has always been something I'm strongly against (as I'd think most are)- but I thought if a chic wanted to BE a prostitute, well then, do you, mama. I however couldn't help feel a wave of overwhelming sadness come over me walking down that street. It's desperate. It's lonely. It makes me cringe just thinking about it. The people in Amsterdam are generally not very welcoming. If you aren't dutch, get the hell out of dodge. The biking is awesome. The canal structure of the city is beautiful. It's most definitely a gorgeous city, but it's busy. SO BUSY. TOO BUSY. I love New York City, but I hate Time Square... and low and behold, it's just like TS.

I don't regret going, it was just one of those places so hyped that it loses it's spark.

I WILL return there one day, I didn't get a chance to see the Van Gogh museum or the Anne Frank house, and also... yeah, it'd be fun to go with a bunch of friends.

Seriously though, don't listen to me, go see it for yourself.

However, I will tell you this: you can smoke weed at home.

Now here we are, in Portugal, where we've spent the past 3 weeks in Porto. I fell into culture shock and quickly jumped back. In the three weeks I've been here, I've gotten to know and become well acquainted with this city. A couple of weeks ago, I was lost amongst the streets and alleys and thought my only way out was to sit on the ground, cry, and hope someone would find me and carry me back to the hostel. Seriously- 100% contemplated doing that. Somehow, some way, I didn't fall and curl up in fetal position sobbing my heart out- instead, frazzled yet determined, I made it back. (I actually had to work and was 45 minutes late for my shift.) BUT I DID IT! I took my first metro all by my lonesome, wandered streets until I found the familiar, and made it back. If you know me at all, that's a huge accomplishment from my anxiety ridden, codependent self. Now, only a couple weeks later, I could make it back from that spot I felt defeated by, in a breeze. I've pushed through more walls and barriers then I ever thought I could in these past two months. Needless to say, this city will now own a special place in my heart. I freed myself more, and let a ton of stuff I've been carrying go. Mel once read me this quote about travelers... How their backpacks get lighter, but their mental weight gets heavier. Something like that. I beg to differ with that quote. My pack has somehow gotten heavier (haha, SOMEHOW)- yet my mind seems lighter. I learned to forgive in Portugal. To let things go. To free myself from the burdens that so heavily weighed me down. I imagine I still have a long way to go, more will surface, more lessons to learn, but damn it feels amazing to unchain myself from that extra baggage. To forgive the people who have hurt me, and no longer let them control me with the anger and heartache I held towards some of them. I started to understand myself the most I've ever been able to, and that is extremely rewarding. I've started to believe in myself, to see my true potential. If you've read my last post, you saw some of the stuff I was dealing with. I'm not trying to sit here and say any of that stuff dissipated over night. I didn't wake up some strong, independent, confident woman. What I'm trying to say is, since this trip began, I'm stronger, more independent and a little bit more confident in myself. There's no chance in hell I wake up each morning feeling fierce, but I wake up each morning and hate myself less and less. I've begun to embrace myself more and more. I understand why I was the way I was, and I'm working towards admiring myself, accepting my worth, and feeling comfortable in my own skin. Since I've started my travels, that's what this whole thing has been about. Some people said I would find my soulmate, some people said I was going JUST to find my soulmate. I'm pleased and proud to say, that's been the last thing on my agenda. In fact, I've pushed any and all opportunities away from me at any given chance. Maybe it's because I'm not ready for it. Maybe it's because I'm over finding some dude at the bar to shamelessly flirt with. Maybe it's because I know I deserve better. Maybe it's because all I really care about right now, is finding love within myself. Whatever the reason may be, I'm not searching for my soulmate. Whomever that might be, we will find each other at the right time. But from the get go, the only thing I ever hoped to find within this trip, was myself. The girl I once thought I had lost. She's in there, and slowly but surely resurfacing again. Years of wounds and scars have pushed her deep down- into a place where she felt unworthy, inadequate. Now I have realized, dammit Mia, you deserve whatever your heart desires. I always used to say I would never call myself a writer, an artist, a photographer... Because while I enjoyed those things, I wasn't good enough to claim the title. But fuck it, I AM a writer. I AM an artist. I AM a photographer. I've spent my life creating, yet hiding behind my timidness, and I'll be damned if I let anyone, including my own self doubt take that from me. Friends and family have spent years telling me I was good at these things, but in my eyes- I was not good enough. Some would ask, "are you a photographer?" and coyly, I would respond, "No, I just really enjoy my camera." STRAIGHT BULLOCKS. The amazing thing about creating anything, with words, with paint, with a camera, is that anything you create, is beautiful, unique, because you're portraying the incredible creations you see in your mind. No work of art is "bad." Even if you somewhat replicate something, it is still different, because a different mind created it. Yes, there is always room for improvement. Yes, we should always aim for outside the box. Yes, there's always going to be naysayers. Yes, there is always someone who will out-do you. But instead of looking at the rest of the world as my competition, instead I will marvel at them, and use that as inspiration, and admiration. As for the naysayers, well, I think most of the stuff anyone could say about me, I've already said myself. The beauty of showing people your wounds. But hey- I'm sure I'm wrong, I'm sure there's a ton more people can come up with, but I'm done suffocating myself in fear from what one person, or one hundred people might have to say or think about me. It's an opinion, it is not fact. The only time people feel the need to speak badly about another human being, is when they feel insufficient.

Been there, done that, got the t-shirt, medal, cookie, what have you.

My dad always told me I gave up on anything that didn't come easy to me. If I wasn't automatically perfect at something, I would give up. I was perpetually afraid of failure. If something didn't come easy, I would throw in the towel and call it quits. He constantly told me to not give up, to keep pushing forward. To practice. That nothing happens overnight. He was right, about everything. I gave up violin, age 9. I gave up dancing, age 11. I gave up any and all sports- my entire life. I gave up on school. I gave up on guitar. I even gave up the things I WAS good at, like writing and taking photos. Once I hit a wall, I would stop thinking there was no way I could possibly get better at these things. If something became difficult, I deemed myself unable to continue trying. I stopped myself from traveling for so long because I was scared of failing. In lieu of this, I stopped myself from living out my dreams. I stopped myself from success. Why was I so terrified to fail? Why would I give up so easily? Because I was scared of anyone noticing. Because fear. God forbid I fell flat on my face and someone saw. God forbid I got laughed at. God forbid someone judged me. Do you really care if I fail? Probably not. If you do, ask yourself why. I'm working on releasing that fear. I'm working on looking failure in the face and saying "Hey, at least I tried." If at the end of the day, no one likes my words, whatever, I will still write. If no one likes my photographs, I will still continue to capture and see the beauty all around me. If no one likes me, well guess what... I still have to be me, I still have to live with myself. I can't run away from that, I'm certainly done trying. Yes, I will fail. Time and time again I will probably stumble. But as long as I pick myself up, dust myself off, and keep on keepin' on, good for me. Honestly, is failure really even failure? I've found myself seeing failure more as NOT doing something, than doing what you wish you could do, and not being perfect at it.

The grand thing I've learned in Porto, is that I'm done being fearful of failure. I'm done competing with everyone. I'm done hiding. I'm done living my life comparing myself to the beautiful beings, the talented artists, the intellects, everyone. There is no need for it. I'm okay just the way I am. I can learn from them, admire them, but I don't feel the need to compete with them, with anyone. No one is better, as I am not better than anyone either. Not an ounce. If only we all worked together, helped each other grow, inspired one another, this world would be a much happier and brighter place. If only we stopped comparing ourselves to the person next to us, we would be happier individuals one by one. If only we lifted each other instead of putting one another down, peace would occur within each of us. I am perfect just the way I am. And guess what, so are you.

As my end in Porto comes near, I leave you with my little bit of wisdom. We are all good enough. We are all beautiful enough. Talented enough. Smart enough. Once you can free yourself from fear, from worrying about everyone else, whether you see them on a pedestal, or are just downright scared of what they might think, you will be free. If anyone has anything bad to say about you, if anyone wants to judge you, let them. They are wasting their time and energy mirroring their own envy and insecurities.

Letting go is one of the most rewarding things you can do. No, I'm not perfect. There will still be times of self doubt, and there will still be times when I compare myself to someone I find more talented than I am. There will be times when I fall down. But I refuse to get discouraged. I refuse to get sidetracked. I refuse to fail. I will reread this post when I feel defeated.

I will work on all of this until I come out on the other side,

and that in itself- is the key to happiness.
Powered by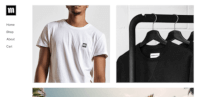 Create your own unique website with customizable templates.

all words by mia laurén hall unless stated otherwise