Perth(27/2/15-3/3/15)

We arrived to Australia Thursday and in my imagination, it would be this crazy cool foreign place in which I've been wanting to visit since I was a child. Maybe it's the naive little girl inside of me, but I imagined kangaroos and koalas everywhere... It's not like that, at least not where I was. (Of course it wasn't ;) ) Strange enough, it felt as if I was stepping right back into my own home country- except everyone had accents and was driving on the opposite sides of the road. I can't quite put my finger on it, nor do I mean it in a bad way, but Australia is a strange place. Maybe because it reminds me so much of my homeland. Perth itself, resembles and feels as if I'm living in Tampa again. Except Northbridge which felt like an ultra miniature version of Brooklyn~ of course I loved this, as Brooklyn stole a part of my heart that I still have yet to get back. Yet unlike Brooklyn, my feeling of ignited love quickly faded as we continued down the road to be hit with towering newly built buildings and mega-stores.

We spent the next few days in a weird haze of boredom, as we couldn't search for jobs being it was the weekend, and our hostel was massive and seemed to already have it's cliques established and EVERYONE staying here was on the same job hunt, or already working and living within the hostel. However aside from the cliques, there were a few cool people we got to meet and chat with, which took the edge off of some of the boredom we were feeling.

Bored? How could we be bored? We were broke~ so so broke~ and Perth is a small city in which I felt like we quickly got to know the 'cool' part rather fast. Therefore a mix of walking around one day, and not being able to spend money, we found ourselves lingering the hostel more than usual in other places we visited.

We decided rather fast that instead of staying to work in Perth, we wanted to get back into nature and find some farm work . The stars aligned as always, and just as fast as we arrived, jobs landed among our laps as we hoped they would. Things always fall into place ~ especially when you need then most, and trust me, we did. As a firm believer in 'the stars' and the magic upon this universe, it also just so happened that the jobs came on the first of March, marking a new chapter, and leaving the craziness of February behind. So a new chapter awaits, and I couldn't be more ready or excited. The first of our "planned" 12 month journey begins, as we head to a small town near Adelaide, in South Australia.

Renmark(3/3/15-current)

When we arrived to Renmark, I joked to Melissa "look, we're in Lockport!" as our bus turned down a small street that slightly resembled the Main Street of my hometown. However, it was the size of maybe a block of it. I'm talking from Gonzos to Main Moon... And that might even be a stretch. Still, this town seemed to a have a lovely little charm about it and we were both relieved to have left Perth and get working again.

A couple days later we started the work on a mango farm. Here I had the chance to be a part of the process from A to Z... Picking the mangos, carrying 20 lb baskets of mangos over and over and over, sorting the mangos, washing the mangos, stickering the mangos, boxing the mangos, eating the mangos, disliking the taste of mangos....and I'd be thrilled to never see a damn mango for the rest of my days. But ~ for me, if you will.. The next time you eat a mango, or any fruit for that matter... Savior it and be grateful. For loads of people worked extremely hard to get that mango to you, from 9.5-11 hours a day, just so a mango could be devoured within seconds... And I have the utmost appreciation for where my food comes from. It's hard work. Easy, but physically daunting and by the end of each day, my body told me that the mango life wasn't one I was meant for. I'm honestly beyond proud of Mel and I for sticking it out. I talked to countless people who quit after just a couple days working in the farm life, and I'm impressed that both of us stuck it out for the length of the job. (We have two days left of the 15 day job! But I know we'll make it!) All the times we said "I QUIT!" but still continued to work through the sweltering sun and baskets upon baskets of Mangos, the times our bodies gave up on us and we just wanted to fall into a heap and cry, the times our alarm begged for our awakening far too early in the morning when one of us just needed "10 more minutes." The times we were hit with utter frustration for the never ending baskets, and the days we had to work up to 11 hours. All the times we were mad at the mangos for even existing, and all the times we generally just hated everything in that moment for pushing us too hard. We still stuck it out, and worked hard, and for that I'm proud of myself, and proud of Melissa for getting through it.

Not only was it was money in my pocket, which I desperately needed and am grateful for, but in the end it wound up being so much more than just a job. For starters, I'm always excited to try something new, even if I learn that it's no where near what I want to be spending my life doing. It's amazing how much we've gotten to try in the past 5 months. And while I have absolutely no clue what my calling is, I do know... It's not at an egg farm, or a mango farm, or a hostel.

Meanwhile, when we weren't slaving over mangos, we were still so bored. At this point in my journey, almost all of my inspiration has seemed to disappear. When I'm not working, I want to be sleeping. And when I'm not extremely exhausted from working, there really isn't much to do in this town. We were situated on a highway, not close to any real nature unless we were at the farm.

The hell were we supposed to do? Nothing.

Absolutely nothing.

So I shaved my head and watched a bunch of television.

Shaving my head was fun. I "oh my god-ed" the entire time I saw the mix of locks and dreads fall to the ground, and somehow made it through without shedding any tears. After fighting the tangles and dreadlocks for months, I surrendered my hair-ego, and decided it would be best. Props to the folks who live the dreadlock life, for it just wasn't for me. I can't even sleep with braids on my head because it's so uncomfortable, so having to sleep under an added layer of matted hair wasn't fun. And the weight of the hair was obnoxious. With what hair I did have left, it was so entirely damaged and bleached that when I tried to comb it, a pile of tiny hairs would follow onto my lap, broken off and crying to be cut. Buzzzzzzzzzzz. Buh-bye! Freedom has called, and I answered on the first ring.

Anyhow, somewhere along the way of complete boredom and zero inspiration... in a small span of two weeks, everything completely flipped inside of me. Before I generally loathed the Mango farm. I couldn't see the silver lining if I had tried. I wanted it to be over everyday, and I wanted to leave this place. The boredom was getting to me, the job was getting to me, I wanted to be having fun again. I wanted to be inspired again. One day, it all just crashed upon me when I was working.

I started paying attention to all the thoughts circling around in my brain.

Anger. Lots and lots of anger.

Judgement. Lots and lots of judgement.

Blame. Loads of blame.

For the first time in my life, I felt the feeling of ACTUALLY getting to know myself. I saw myself in a different light. I was not a victim to heartbreak, insecurity, or disappointment, I was a villain in my own circling negative thoughts and keeping myself there. I was dwelling on the smallest things, I was blaming myself and judging myself through everyone else around me, because I was too scared to see that I was actually doing it to myself. I started to see how much blame, judgement and anger I have towards myself. Then I peeled away more and saw all the guilt I hold onto. All the things I blame myself for, how that's affected my self worth and how I perpetually go around in circles dragging myself down. Everything became crystal clear to me at this moment. I needed to stop the blame game. I needed to stop blaming others, stop judging others, and just as importantly: stop doing it to myself. Once I began to see this, I watched a new voice appear in my head... One I believe to be my intuition, or my stronger sense of self. This voice stepped in when I was harboring anger, and I began to tell myself to knock it off. I began to try to locate the anger or frustration and see why I was behaving this way inside my head. A lot of times I was just tired, and because of this started letting every single thing get to me. Sometimes I was recognizing the anger towards other people as actually being the guilt I felt masked and me again trying to blame others for why I felt such a heavy feeling. But the more I got to know myself, the deeper I began to dig, and thus wound up actually freeing myself from a few of the things that were burying me. To see some of my dark parts come to surface, made me actually love myself a little more. To see I am only human, I can make mistakes, I can learn from them, brought me right down to earth and let me know it's okay: my past does not define me. I began to feel proud of myself, to tell myself nicer things about myself that I had never done before... the things I have been seeking for months, years even, I actually began to see change inside of me. How hard I worked, how much strength and courage I have to do some of the things I do. Facing the guilt, blame, and judgement within myself opened me up to see that I didn't have to live in that reality. I no longer could go back to thinking the way I had previously, because I now saw things for what they were.

I saw myself, and through all of her disappointments, I still loved her.

I certainly didn't expect to write "Renmark" down as a significant part of my travels, but it hit me like a train, and I'm absolutely grateful of the introspect and bonding with myself that has come of this place. It certainly goes down in the books. I found a real, pure part of myself here.

~

Today marks our 5 months since we started traveling. I can hardly believe it. It seems no longer that yesterday we nervously packed our belongings and said goodbye to all of our favorite people, but a distant memory. Now when we revisit old memories of when we first left, it's funny to look at our old selves and laugh at how scared we were. I can't explain just how much I've learned in only 5 months, but I can say: the doors have just started to open, and I can't wait to see what's inside.
Powered by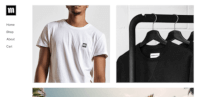 Create your own unique website with customizable templates.

all words by mia laurén hall unless stated otherwise